Smart Home 101 for Non-Techies
09 September, 2019
---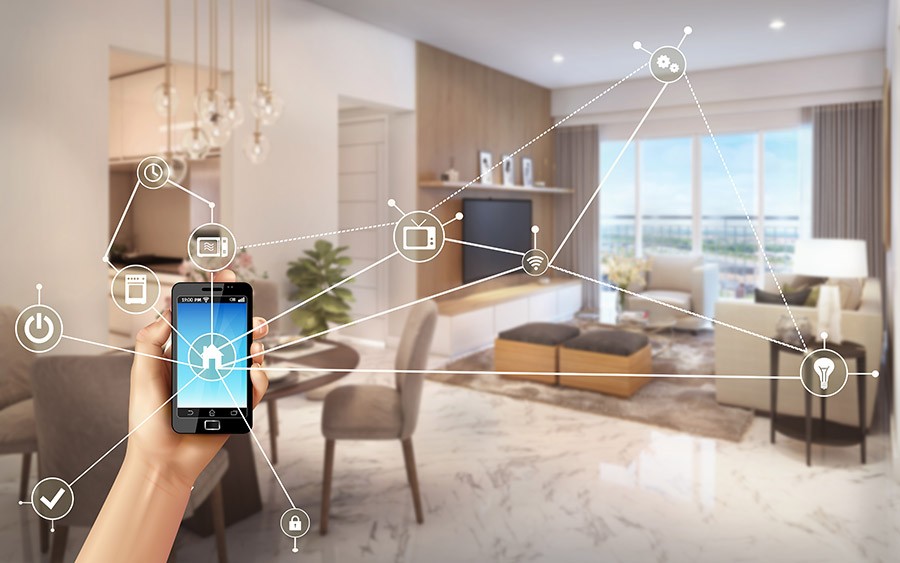 Thinking of setting up a smart home? Here are some things you should know.
Technology has flourished in more ways than we can imagine. Tech advancements like the internet have changed the way we live, work, and play. Just a few years ago, it became even more personal with the rise of smart homes, a luxury innovation that sets a new standard for modern homes.
What is a smart home?
A smart home is one that utilizes technology to make everyday living easier and more convenient. Most of your things at home — lights, air conditioners, security system, and even speakers and TVs — can now be controlled by our smart phones or smart speakers via WiFi. This means that you can dim the lights, adjust the thermostat, and play music with just a tap on the screen or a voice command even when you're not at home. You can also have them automated, like schedule these devices to switch on and off by themselves.
Enhanced quality of life
Since you're tapping into a high-tech functionality to set up a smart home, living in one makes life easier and more convenient. You can manage all your home devices from one place and enjoy an eco-friendly life with energy-efficient appliances.
Also, who wouldn't love a robust home security setup where you can monitor your property even when you're on vacation? With this tech, you also wouldn't have to worry about things like forgetting your keys since there are now keyless locks custom-made for modern homes. Relaxation also takes on a whole new level with a hands-free lifestyle where you can turn on your coffeemaker or lower the window shades from the comfort of your bed.
Making a home smart
With all this tech talk, having your home up and running with smart hardware and services may seem complicated and intimidating. It's not as daunting as you think, though. Once you've set things up, you can enjoy a smart home for a long time.
First, it's advisable to have a virtual home assistant. There are voice-controlled assistants available in the market like Apple's Siri, Google Assistant, and Amazon's Alexa, which you can command at will. These assistants come with hardware or a smart speaker that will become your primary home controller. (For example, for Amazon's Alexa, there's Echo. Google's Assistant has Google Home. Apple's Siri has iPhones, iPads, and Apple Watch.)
Then, you need appliances that would work well with your chosen assistants. Here are some that have a smart version:
Lights and air-conditioning systems
Smart lights and air-conditioning systems are some of the must-haves when setting up a smart home. With motion and temperature sensors, they can save energy by turning off when not in use and through automated thermostats.
Home security devices
Smart home security devices and monitoring solutions are also integral to today's modern home. They keep you safe and let you keep an eye on your home from afar. They can alert you to a smoke, fire, or an unauthorized entry to your home via smartphones even if you are away from home.
Smart cameras can now see in the dark and detect unusual activity. Video doorbells are equipped with a camera, microphone, and speakers, and let you see and talk to who's at the door without having to go near it. Smart or keyless locks offer the benefit of not having to worry about your keys and they even notify you when your door is ajar.
Plugs
Another device that can control your appliances from afar and transform your regular device into a smart one is a smart plug. It connects home appliances like a lamp or coffeemaker to an outlet and makes them remotely controllable.
You can also program smart plugs to sync with home security sensors for instances like having an appliance turn on or off when a door is opening or closing. Some plugs even have air quality-sensors that measure temperature, humidity, and volatile organic compounds, which then could trigger humidifiers or air conditioners.
TVs and speakers
Commanding your voice-controlled assistants comes in handy especially when you're doing something else. Need help preparing sous vide steak for dinner? No need to leave the kitchen because your assistant can read you a step-by-step guide. Want to change the music while relaxing in a hot bath? Just say aloud the name of your favorite Spotify playlist.
Smart TVs allow you to use the internet to search for your favorite show, shop online, and visit websites without having to use your computer. The integration of devices reduces gadget clutter without compromising style and functionality.
Creating a smart home is an upgrade worth considering. Moving into a more dynamic and connected lifestyle by availing of today's technology is an exceptional luxury that can be enjoyed for years to come. This is another step towards fully enjoying the life you deserve.
Prestige by Filinvest creates the life you deserve with specially-crafted living spaces designed for distinctive tastes. Drawing on five decades of experience in property development, each residential masterpiece is meant to be cherished from one generation to the next, all in highly coveted locations.